Nera Mercato - A Piece Of Italian Heritage In Soho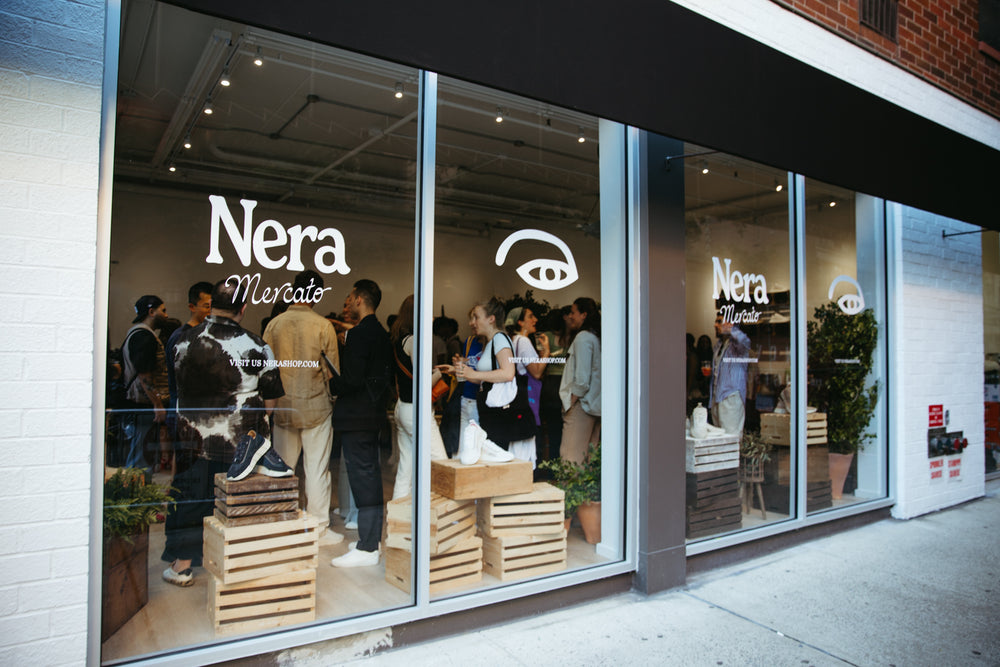 Nera's First Pop-Up Shop In The Heart Of New York City
Last weekend Nera celebrated the start of summer with the opening of our first pop-up, Nera Mercato, at
21 Spring Street
. The shop was open over the course of three days, with multiple events held throughout the weekend. On opening night, Nera hosted a cocktail event and an after party - sponsored by Perroni and Aperol -  to celebrate our first pop-up experience and kick off the weekend. Guests were welcomed in to get a first look at the market, the unique array of products offered, and our own Nera sneaker capsules, all while feeling transported to Italy.
The Shop Concept

Nera constantly seeks to create a universe where past and present are in closer dialogue with one another, preserving the best of the past to inspire a culturally rich future. With our first pop-up shop, we wanted to continue our efforts by creating a transportive experience that would champion our passions and vision. With inspiration taken from the historic markets in Florence, Nera Mercato was brought to light as a true statement of our ethos, bridging the worlds of tradition and craftsmanship with contemporary design. 
Known for their eclectic array of available products as well as their vibrant social and economic energy, the markets in Florence were known to dictate the rhythm and flow of the city and are still widely visited today. Nera Mercato made sure to tap into the cultural heritage and social connectivity of these markets to craft a truly one-of-a-kind footwear event.
What The Mercato Had To Offer
To justly pay homage to these prolific markets, Nera collaborated with several brands to bring our concept to life. Among these brands were Alimentari Flaneur, Made by Mama, and Send Olives. Each of our partners brought something unique to the market, yet everything offered at Nera Mercato was confidently authentic with the quality assurance of the "Made In Italy" trademark to match.
At Nera Mercato, guests could shop from a diverse catalog of products ranging from our Nera Model 1 collection to fresh grocery items offered by Made by Mama and Alimentari Flaneur to delicious Italian-sourced olives from Send Olives. All authentically made in Italy. All with the incentive to bring a nostalgia for quality creation to modern streetwear.
To top everything off, Nera produced limited edition t-shirts for the event. These specially crafted shirts are emblazoned with our Nera Mercato logo, and our "We make 'em like they used to" tagline.
As with all of our Nera products, Nera Mercato was designed to stand the test of time and embodies a devotion to traditional techniques in the modern era.  
Thank you to everyone who helped bring our Mercato to life and all those who came to support.  
Til' next time…  
Saluti,
Nera